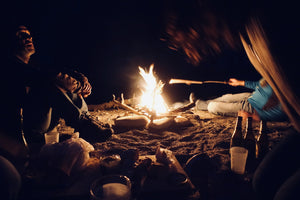 2020 // NOS VAMOS JUNTOS
---
We held hands while looking at the stars. We embraced after a temazcal. We travelled across a country together. We knew each other for hours. We knew each other for years. 
Nos Vamos Juntos considers the moments when we find ourselves sharing an experience, absent of distraction, with those around us. Whether sitting around a fire, preparing a meal, watching the sky, or simply walking in the same direction, the surprise and delight of simultaneous presence and participation, and the resulting connection, extends beyond the moment itself.
Hija de Nada offered made-to-order custom versions of classic styles as part of the 2020 collection. This method of working allowed HdN to offer one-of-a-kind versions of staple pieces found in-line, while at the same time enabling us to remain flexible with our materials inventory during a time of particular challenge.